Acid Island Runner (preview) on Kongregate
This is my first game submitted to Kongregate since they accept Unity games. It's just a first attempt to test the Kongregate API (score).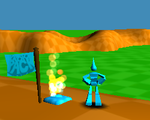 Stay tuned and expect more to come...
_________________
Playing : Clash of Clan, Clash Royale, Orcs Must Die 2 and waiting for OMD3!!!!